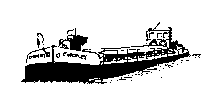 For further information contact the Tourist Information Centre.
They can supply you with leaflets, etc. & book your holiday accommodation
Tewkesbury Tourist Information:
Tourist Information Office
64 Barton Street
Tewkesbury
Gloucestershire
GL20 5PX
Telephone Number: 01684 295027
This is a lovely old town in north Gloucestershire, by the confluence of the Severn and the Avon. There is an effigy of Edward Despencer of 1375 in the Abbey, this knight was described as the most honourable, gallant and valiant knight of all England, much beloved by the ladies.
One of the best-preserved medieval towns in England, Tewkesbury grew up as an important agricultural market centre. The surrounding rivers and flood plain prevented the town from expanding and so that its long thin profile has remained virtually unchanged since the Middle Ages. In 1471 the Battle of Tewkesbury, one of the defining battles of the Wars of the Roses, took place in fields to the south of the town.
Grain barges at the Mill on the River Avon
before moving to Sharpness in March 2007
Today the fine medieval town includes many Tudor timber-framed buildings, overhanging upper stories and ornately carved doorways. Tewkesbury's crowning glory is the magnificent Tewkesbury Abbey, established in 715 AD, and popular with visitors from all over the world. The Abbey church of St Mary the Virgin, dating from 1101, has the tallest surviving Norman central tower in the world. Other visitor attractions include the Tewkesbury Museum, Merchant's House, John Moore Countryside Museum and Roses Theatre.