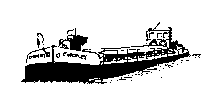 The shape of the Severn Estuary is like funnel as the tide travels into an increasingly narrow channel, thus forming a large wave. The Severn's course takes it past Avonmouth where it is almost five miles wide, then past Beachley and Aust, then onto Lydney and Sharpness where it is one mile wide.
Very soon the river has narrowed to a width of a few hundred yards. By the time the river reaches Minsterworth it is less than a hundred yards across, remaining this width all the way to Gloucester.
So the mighty Severn bore is born, but the wave is not seen until it has passed Newnham on Severn, far up the river from the estuary.
Charston Rock with the S.S.C. In the distance
For further information contact the Tourist Information Centre
They can supply you with leaflets, etc. & book your holiday accommodation
Castle Car Park
Bridge Street
Chepstow
Gwent
NP16 5EY
Telephone Number: 01291 623772