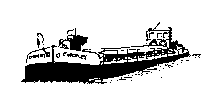 Etchings of Gloucester
By
Griffin
Click on each image to view the drawing at a larger size
Peter Griffin was born on the 21st October 1937
He lived for much of his life in Tewkesbury, Gloucestershire.
For a number of years he worked as a technical illustrator at Berkeley Nuclear Power Station.
His passion was his hobby, drawing the pen & ink drawings of buildings and locomotives.
Indeed in his retirement years he volunteered with the Severn Valley Railway.
Sadly Peter passed away on the 2nd August 2022.