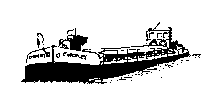 For further information contact the Tourist Information Centre
They can supply you with leaflets, etc. & book your holiday accommodation
Gloucester Tourist Information:
Tourist Information Office
28 Southgate Street
Gloucester
Gloucestershire
GL1 2DP
Telephone Number: 01452 396572
The ancient city of Gloucester is well worth exploring with its fine Cathedral and historical docks. Of course, the history of Gloucester goes back to before the Romans came in AD49, pottery dating as old as 6,000 years has been discovered in the area. The tomb of King Edward II is in the Cathedral , from 1327, after he was murdered at Berkeley Castle.
Today Gloucester shares its history with the modern city, currently undergoing a multi-million pound facelift near to the docks.
The chip shop in Hare Lane
Some etchings by Griffin,
the popular Gloucester
artist of the 1970s