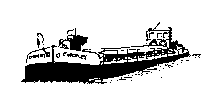 Early man regarded the River Severn as a defence against the enemy on the other side, therefore he didn't find it necessary to cross the river that often. The river would have been very shallow, especially on the upper reaches, where no doubt it would have been easy to place tree trunks on large stones and walk across.
DID YOU KNOW THAT........
SHREWSBURY
Kingsland Toll Bridge
current toll charges are:
Cars: 20p each way
Pedestrians: 1p each way
HAMPTON LOADE
Ferry for foot passengers only.
EBOOK by
Chris Witts
'SevernBridges:
Pocket Guide'
Only £1.49p
Click HERE
TOLL CHARGES FOR CROSSING BOTH
THE PRINCE OF WALES BRIDGE
& M48 SEVERN SUSPENSION BRIDGE
Crossing both ways now free!
Visit all the bridges crossing
the Severn