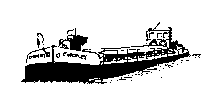 Three of the Severn's majestic bridges are of the design of John Gwynn. English Bridge, Shrewsbury, Atcham Bridge and Worcester Bridge. Atcham Bridge closed to traffic in 1924, but still standing today as a monument to this fine bridge designer. Although both English Bridge and Worcester Bridge have been extensively rebuilt, they still retain their majestic appearance.
John Gwynn began his career in Shrewsbury as a carpenter, but later changed his lifestyle and moved to London. Here in the 1760's he designed an ambitious scheme for the central area of the capital. He was well versed in classical architecture, having written on the subject for a number of years and in 1768 he became founder member of the Royal Academy.
It was during the period of construction of Atcham Bridge that he designed another splendid bridge, Magdalen Bridge in Oxford. It is a tribute to this fine architect that English Bridge survives in the town of his birth at Shrewsbury and also Worcester Bridge, where he died on the 28th February 1786.
John Gwynn Born 1713 Died 1786