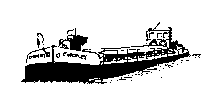 Born the son of a shepherd at Eskdale, Dumfrieshire. Although his mother was widowed early he was articled as a stonemason, working first in Edinburgh and then at Somerset House in London. Then he came to the attention of William Pulteney, the wealthy MP for Shrewsbury and was soon appointed County Surveyor of Public Works for Shropshire in 1787. He set about a radical improvement of roads and bridges, later devising a new form of chipped stone road surface.
But it was in his canal construction that he excelled. He built a bridge on the Shrewsbury Canal in the form of an iron trough which became the prototype for his magnificent Pontcysllte Viaduct over the Dee Valley on the Llangollen Canal. Telford's philosophy was to build on a grand scale, an approach which was costly, but of a more lasting structure.
Built on a grand scale were the Caledonian Canal and the Gotha Canal in Sweden, each of them epic feats of engineering. Thomas Telford was a pioneer in the field of suspension bridges, one of the first being the bridge over the Menai Strait.
During the 1960's Telford was designated a new town and named in honour of this great bridge designer.
Thomas Telford Born 1757 Died 1834