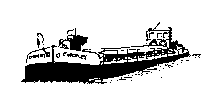 Thomas Penson Born 1790 Died 1859
The Penson dynasty of the 18th century was well known in North Wales for their work as architects and surveyors. Thomas Penson's father was the County Surveyor of Flintshire until he was dismissed suddenly, no doubt connected with the collapse of the new Overton Bridge!
It has often been said that Penson's and Telford's bridge designs are similar. Possibly because both were pupils of the distinguished neo-classical architect Thomas Harrison of Chester.
Thomas Penson was a hard man to work for and did not think much of local contractors. In February of 1852 incessant rain caused the Severn to rise higher than figures recorded during the flood of 1795. Many bridges were damaged and weakened by the force of water rushing down the river. For the next few years Penson was to be kept busy repairing and replacing them.
Whilst County Surveyor of Montgomeryshire during the 1850's, the council decided that a new bridge was to be built at Caerhowel. Penson recommended a single arch iron bridge of the Dredge design. Against the surveyor's wishes a Dredge suspension bridge was built and opened in 1854, but in 1885 the bridge suddenly collapsed killing one of the wagon men who was crossing the river.
Thomas Penson finally got his way, the bridge was replaced with the present iron bridge, not a single arch, but two.